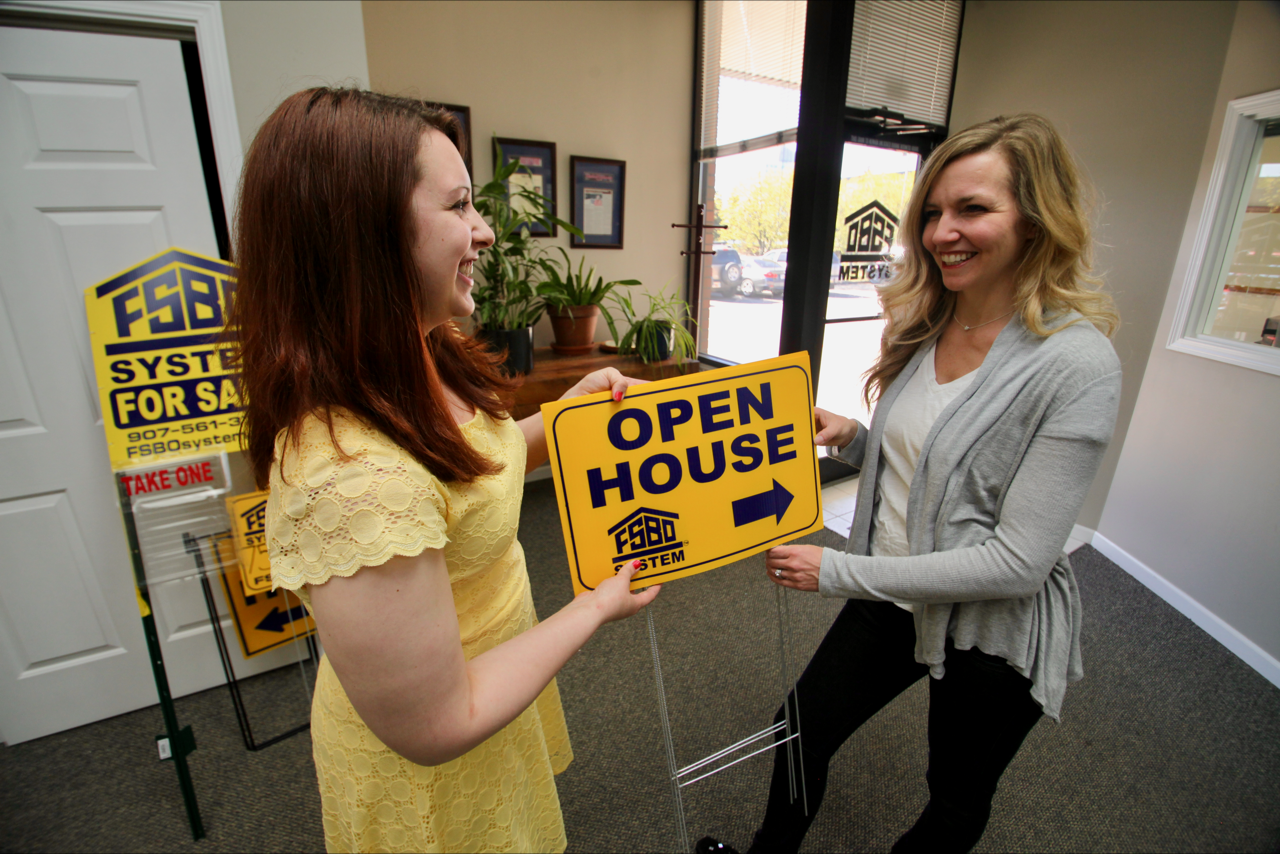 ALL THE HELP YOU NEED TO SELL YOUR HOME AND SAVE THE ENTIRE AGENT COMMISSION
Whether you live in a $100,000 condo or a $1,000,000 mansion, six percent of the value of your home is real money to you!

FSBO System gives you the tools, confidence and support you need to sell your home.


What you get:
Unlimited customer support from our licensed, specially – trained FSBO System Counselors;
Unlimited use of the seven-step interactive on-line FSBO System tutorial;
The FSBO System embedded legal forms, worksheets, and ebooks;
All state and federal disclosure documents;
A home visit to give you tips on show condition; *
A professional comparative market analysis to help you set a price;
All your marketing materials, like your flyer, and your open house book;
An individualized marketing program, based on your home, your timetable and selling goal, and your budget;
Listing on Alaska MLS, Realtor.com, Zillow, Trulia, and other home listing websites – all the Internet marketing you need;
How to pay nothing to a buyer's agent, and save the entire 6% agent commission;
The effective FSBO System For Sale sign, Leave Out sign, and as many Open House signs as you need;
The unique FSBO System buyer feedback program, based on only three simple marketing statistics. (This is the main reason our clients have out-performed agents for 22 straight years.)
When you find a buyer, we make sure they're pre-qualified to buy your home;
We show you how to negotiate closing costs;
Your purchase and sale agreement;
We set up your closing;
We help you with further negotiations due to the home inspection and the appraisal;
We attend the closing with you; *
The FSBO System money back guarantee.
Your Investment
Last year the average FSBO System clients had a 74% chance of success, sold in just a few weekends and made an extra $14,000. The full cost of the FSBO System program is just 1.25% of the tax assessed value of the property (1% of tax assessed value for raw land). Minimum fee may apply. You can pay with cash, check or credit card. A Pay at Closing program may be available OAC.
Contents of the On-line Software and Reference Manual
Step 1: Planning Ahead
1.1 Your Savings
1.2 What will you do with the money?
1.3 Shopping List
1.4 Manuals
1.5 Selling Goal
1.6 Time Line
1.7 Glossary
1.8 Congratulations
Step 2: Putting Your Home In Show Condition
2.1 Pack Up
2.2 Garage Sale
2.3 Maintenance and Repairs
2.4 Remodeling
2.5 Deep Clean
2.6 Property Disclosure
2.7 Conclusion

Step 3: Asking Price – NOTE: With FSBO System a licensed professional will prepare your market analysis for you – but you can still do this yourself if you want.
3.1 Fair Market Value
3.2 Price Adjustments
Step 4: Marketing Program
4.1 Photos
4.2 Flyer
4.3 MLS Listing
4.4 Other Internet Advertising
4.5 Signs
4.6 EZ Form Purchase and Sales Agreement
4.7 Open House Materials
4.8 Home Visit
4.9 Finish and Print Your Flyer
4.10 Conclusion
Step 5: Find a Buyer
5.1 Fair Housing
5.2 Dealing With Agents
5.3 Open House Prep
5.4 Security
5.5 Conducting Your Open House
5.6 Buyers Feedback
5.7 Mid-Course Corrections
5.8 Conclusion
Step 6: Negotiating Your Deal
6.1 Preliminaries
6.2 Negotiating Directly With Buyers
6.3 Offers Through An Agent
6.4 Next Steps
Step 7: Closing
7.1 Open Escrow
7.2 Buyer's Due Diligence
7.3 Home Inspection Report
7.4 Appraisal
7.5 Preparing for Closing
7.6 Feedback
7.7 Closing
7.8 Congratulations
Ready to get started? Questions?

Call (907) 561-3726 to speak with a licensed FSBO System counselor now!